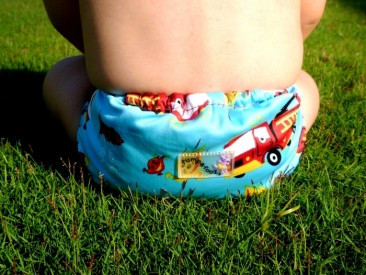 Here at Booty Crawl we like to think that we have done all of the hard work for you when deciding on which brand(s) of modern cloth nappies (mcn) to use, by stocking only those brands that we love and that babies love wearing.

However we also appreciate that there is nothing like being able to touch, see, play and feel our wonderful nappy brands in real life, and receive free hands-on practical advice and guidance at the same time. That's why we go the extra mile and offer a range of services to help the newest of modern cloth nappy users, to the most primed modern cloth nappy experts. We're here to help from birth to toilet training, and we're just the click of a button or a phone call away.
We offer a range of services including:
- One-on-one obligation free consultations at the Darch showroom;
- Newborn Nappy Hire;
- Group demonstrations and nappy parties (nappy bash);
- Ongoing help and support;
- Bulk package discounts;
- Lay-by;
- Gift Registry services and more!
one-on-one
Perth consultations
In Perth WA? We can provide a one-on-one consultation to help you decide which cloth nappy(ies) will best suit you and your family. This is a great way to see the different nappy brands and styles we stock in a relaxed, no pressure atmosphere. There is no obligation to buy, however we do ask that you don't use this service if you have no intentions of ever buying any products through us as we have young children too and take time out from our family for these consultations. Consultations generally take 1.5hrs. Most people prefer the consultations as you can touch, feel and play with the nappies for as long/little as you like, as well as tailor design your own nappy stash across a wide range of brands and styles.
newborn newborn nappy hire
Born (no pun intended) out of necessity and after high demand, our Newborn Nappy Hire (Newborn Nappy Library) allows mums and dads to use modern cloth nappies from Day 1 on their newborns, without the high expense of purchasing a full newborn/sized nappy stash. This service is popular for our customers who purchase One Size Fits Most nappy styles to use on their eco-bambinos, as these nappy styles generally take a few weeks for a good fit to establish around the leg and so can result in leaks for the first few weeks.

Our Newborn Nappy Hire is for a period of up to 6 weeks from the birth of your baby, and costs just $150. That's only $25/week (less than half of the cost of disposables) and contains 35 of the cutest teeniest sized newborn cloth nappies so you don't need to be washing every day. As this is an extremely popular option, we recommend that you contact us early (at least 2 months before your due date) if you are thinking of utilising this service.
 
group demonstrations /  nappy parties
Whether it's your mothers group, friends or family we are more than happy to come to you to show off our gorgeous modern cloth nappies, swim wear, reusable swim nappies and eco-friendly and organic baby products. Most mums and dads find that once they start using modern cloth nappies everyone gets interested and starts to ask questions, so more often than not we are invited out to inform family and friends about the nappies and how they work.

Maybe you/your family or friends are just not into modern cloth nappies? Not a problem. We have something for everyone. our group demonstrations can be tailored specifically to show off our gorgeous iPlay swimwear range and reusable swim nappies, Organics skincare range for bubs or our other eco-friendly baby and toddler items. This is a great way to get everyone involved. It's also a great excuse to get out, meet new people and eat some cake.

Group demonstrations take between 2-3 hours. Min. 5 attendees preferred for group bookings/nappy parties. You supply the coffee and cake, we will supply the gorgeous products. Hostess Discounts are also available.
Baby Beehinds, Bambooty, Bare and Boho, Bubblebubs, BumGenius, Close Popins, Designer Bums, EcoNaps, Grovia, Flip, and Rumparooz are just some of the many great brands and with so many nappy styles to choose from it is hard to know where to start so let us do the hard work for you.